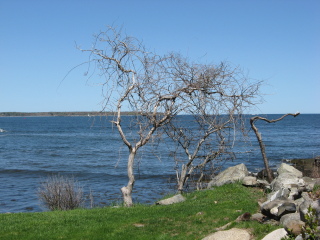 For Mother's Day, Chardonnay and I went with Sandra to Ordiorne Point, which used to be a gunnery emplacement (Fort Dearborn) protecting Portsmouth Harbor during World War II. Before that, it was private land and marsh and today remains the largest strip of undeveloped seacoast on the NH coastline. Ordiorne Point has a few hiking trails and most of them have negligible elevation gain (in other words, you're hiking as opposed to climbing). The WW II era bunkers are still there, although the munitions are long gone. The land was considered surplus and was sold to the state of New Hampshire for $91,000 in 1962. Anyway, enough with the history lesson. The weather at Ordiorne this Sunday was lovely; not too warm and not too cold, with a nice breeze coming off the ocean surf.

We drove around to find a place to have a quick lunch, preferring to have a nice lobster dinner at home to needing to make reservations and wait, wait, wait for a table at a less-than-decent restaurant. I suggested the Loaf and Ladle, a lunch spot in Exeter that Sandra likes, and we drove there on the way home.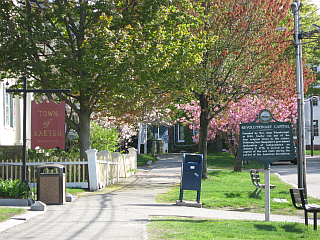 The Loaf and Ladle specializes in sandwiches, soup, and salad. There are fresh baked goods for desserts as well. There's a tavern section of the restaurant, but it has never been staffed when I visit the place (the bar is definitely active--it just seems to not be staffed when I'm there!).

The restaurant is located on the banks of the Exeter river on Rt. 111 in downtown Exeter. There is no table service. Instead, you come in, order at the counter, and then bring your meal to one of the tables. There was an outdoor patio in use yesterday, although the three of us ended up sitting in the tavern section of the dining area (again, the bar was vacant).

The menu is rarely static. The sandwiches include roast beef, chicken salad, hummus, liverwurst, and other standard fare. You get your choice of bread. Yesterday, there was Sourdough Rye, Oatmeal, Sesame Seed Wheat, Loaf and Ladle Wheat, and a few others. I chose the "whitest" bread they had, which was the oatmeal. The soups that day included Strawberry Rhubarb, Spicy Black Bean, Chili, Boiled Dinner (you know you're in New England!), and others. Soups and sandwiches are each served with an extra slice of bread, cut about the size of Texas Toast--around two inches thick.

One thing that I don't like about this place is the layout of the order counter. It is set so that if there are more than a couple people waiting to order a sandwich or soup, the line will cross over the doorway. This can lead to some confusion as people attempt to leave or enter the place. The service behind the counter isn't speedy--this isn't fast food by any means--and this only seems to exacerbate the "pile up by the door" situation.

As the name implies, it's the soups and bread that are Loaf and Ladle's specialties. Everything is served fresh and even though I'm not really a "classic soup" (I prefer Asian styles) or a bread person, I've always been able to find something I like.

The place takes cash and credit cards, and it appears that they have alcohol (although, as I've already mentioned, I've never been able to sample any of it). The prices are reasonable for the fare they offer. I'd consider this a hidden gem of a place, and it's easy to see why Sandra likes it so much.

Bon Appetit!